Proudly presents…
Press Release
For Immediate Release:  March 15, 2023
Contact:  Ane Richter, Producer   [email protected]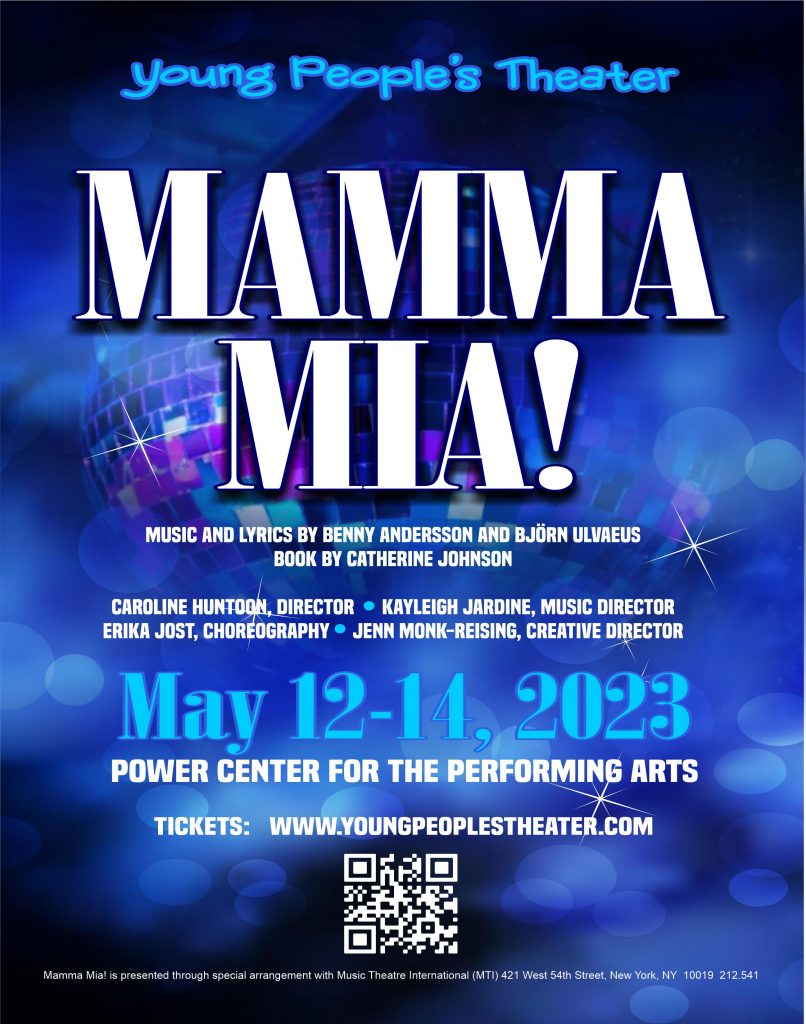 YPT:  Theater by young people for people of all ages!
So professionally presented that you will experience the thrill of watching a Broadway production…   Right here in Ann Arbor!
YPT is so excited to be BACK at the Power Center!!! Thank you to all of you who have supported YPT's journey through COVID!  We are so grateful to have survived it all to return to the stage to delight you with this Spring with Mamma Mia!
Mamma Mia Performances: 
Friday, May 12, 2023  7:00pm
Saturday, May 13, 2023  1:00pm
Saturday, May 13, 2023  7:00pm
Sunday, May 14, 2023  2:00pm
Our Theatre Venue:       
Power Center for the Performing Arts
University of Michigan
121 Fletcher Street
Ann Arbor, Michigan  48109
Ticket Information
Conveniently available online, by phone and in person!  All seats reserved!
Michigan Union Ticket Office (MUTO*)
By Phone:  734-763-TKTS
In Person:  530 S. State, Ann Arbor, MI  48109
Online:  https://muto.umich.edu/ *
Ticket Sales Begin Monday, April 10, 2023
MUTO Box Office Hours:
Monday – Friday:  10:00am-6:00pm
Saturday:  Closed
Sundays:  Closed
Ticket Prices:
$15 for Adults and Seniors
$10 for Children and Students 0-18
No Refunds or Exchanges!
*Service Fees may apply
Prior to Each Performance at the Power Center for the Performing Arts Box Office: 
Any unsold tickets will be available at the Power Center Theatre Box Office 1 hour prior to each show
About Mamma Mia…
We're so excited to be back and bring performance and technical experiences to young people and live theater to our audiences.
ABBA's hits tell the hilarious story of a young woman's search for her birth father. This sunny and funny tale unfolds on a Greek island paradise. On the eve of her wedding, a daughter's quest to discover the identity of her father brings three men from her mother's past back to the island they last visited 20 years ago.
The story-telling magic of ABBA's timeless songs propels this enchanting tale of love, laughter and friendship, creating an unforgettable show. A large cast, non-stop laughs and explosive dance numbers combine to make Mamma Mia! a guaranteed smash. A mother. A daughter. Three possible dads. And a trip down the aisle you'll never forget!
Mamma Mia! Come! Bring the Whole Family and Your Entire Friend Circle!
Mamma Mia As the Critics See It…
"Mamma Mia!" flies as tuneful as a lark and as smart as a cuckoo. It offers one of those nights when you sit back and let a nutty kind of joy just sweep over you… The true hero is British playwright Catherine Johnson, who took all these songs and cobbled a cohesive book around them. Genius." 
Clive Barnes, New York Post, 10/19/2001
"Mamma Mia!," which weaves a few threads of romantic comedy around a bumper crop of old Abba tunes, is a thoroughly preposterous show, but it's also a giddy guilty pleasure…" 
Charles Isherwood, Variety, 10/18/2001
"Almost two dozen hits from the '70s pop sensation ABBA form the spine of this worldwide smash, which book writer Catherine Johnson has feebly fleshed out into a mother-daughter comedy-drama. As theater, Mamma Mia! is forgettable." 
David Cote, Time Out New York, 10/19/2001
Join YPTers and Experience Musical Theater at its Best…
"My grandchildren loved YPT's production of Beauty and the Beast here in Ann Arbor better than the one that I took them to see in New York City!  Thank You, YPT! Madeline, Beauty and the Beast, 2006
"I thought I was coming to a kids' production.  Those kids were amazing and so professional and I loved every minute!" Andrew, Seussical
"Broadway could not have been more delightful than watching Dorothy and friends on the stage here in Ann Arbor, Michigan! The show was incredible in every possible way! I won't miss another YPT production!" DeDe, The Wizard of Oz
"Wow!  Totally amazing!  I forgot that I was watching really young people up there on that stage!  They were so professional and it was fabulous in every way!  Loved the set and the costumes and it was all just amazing!" Charles, The Little Mermaid
"YPT has been like a second home to me over the last 5 years.  It has given me a chance to learn and grow and do what I love best.  It has been a life-changing experience and I am so glad that it is here for young people!" Sue, YPT Young Person
Directions to the Power Center for the Performing Arts
The Power Center for the Performing Arts is located at 121 Fletcher Street (on the University of Michigan campus), Ann Arbor, Michigan
Take I-94 to the State Street Exit (#177).  Go north.  Continue on State Street approximately 2 miles to the main campus area.  Take a right on North University and go 2 blocks to Fletcher.  Turn left.  The Power Center is at the corner of Fletcher and Huron with a parking structure next to the Power Center on Fletcher.
Parking:  Conveniently located across from the theatre!
University of Michigan Parking structure on Fletcher next to the Power Center for the Performing Arts
Parking Attendant on Duty 2 hours prior to Curtain/$5.00
See http://pts.umich.edu/index.php for further information
YPT and Mamma Mia!
At the Power Center for the Performing Arts
Young People's Theater
331 Metty Drive, Suite #3, Ann Arbor, MI  48103
734-222-4006  w   www.youngpeoplestheater.com  w  [email protected]