.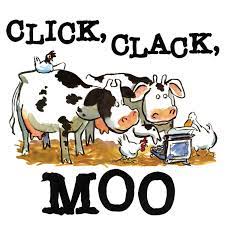 One-Week Moosical Production Camp for Our Youngest
Directed by Mary Roderique

There once was a camp for children who loved to play, to pretend, to sing and to dance. The children at this camp spent a week in the far away land of musical theater. They created stories through movement, dialogue, songs and art. They worked as a team, casting the spells that bring make believe to life on the stage. On Friday, before camp ended (and they all lived happily ever after), the children shared this enchantment for all friends and family to see, in a magical performance at the YPT black box theater.
Join our camp creating a production of Click, Clack, Moo:
The quirky, hilarious farmyard tale that started it all from New York Times bestselling duo of Doreen Cronin and Betsy Lewin!
Farmer Brown has a problem. His cows like to type.
All day long he hears Click, clack, MOO.
But Farmer Brown's problems REALLY begin when his cows start leaving him notes…. Come join the fun as a bunch of literate cows turn Farmer Brown's farm upside down.

Camp Dates: June 12-16, 2023
Tuition: $300 per camper
Camp Times: 9:00am to 3:00pm
Ages: 1st-3rd Grades