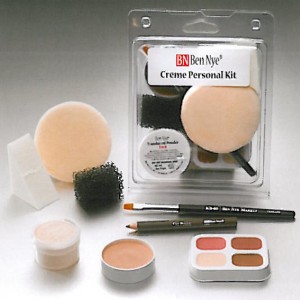 Each cast member needs their own Stage Makeup Kit.
Please plan to have your makeup kit by Thursday, May 4. Be sure to mark everything in your kit with your name.
Where to Buy Stage Makeup 
Each castmember should have their own stage makeup kit (hygiene reasons make sharing a reason not to share here). Kits can be purchased locally for about $18 at TLS Productions Inc. or online. Please be sure to mark everything in your kit with your name.
TLS Productions Inc.
78 Jackson Plaza
Ann Arbor, MI  48103
(855) 515-8577
Hours:  9am-5pm Monday – Friday
Bring your actor with you when you make the purchase (if you have not already done your color matching with us at YPT), as the staff  will assist you in selecting the correct shade of makeup by looking at skin tone. They reminded us that it is only possible to do a match if the actor is present. They report that the "he/she looks just like me" method of matching make up tones more often results in a mismatch which necessitates a return trip!
You will not need any makeup beyond the basic kit although a Primer is strongly suggested to help protect the skin and help the makeup last under the lights… Any colors and special effects are stocked in the YPT Make Up Supplies which will be on hand! Instructions on the use of stage makeup will be forthcoming. Stay tuned for details….
Links for Ordering Personal Make-Up Kits Online!
http://camerareadycosmetics.com/products/ben-nye-personal-creme-kit.html
http://www.norcostco.com/ben-nye-creme-personal-student-kit.aspx
Some shades are available on Amazon:
http://www.amazon.com/Theatrical-Makeup-Kits-Fair-Light-Medium/dp/B00487JRXC
http://www.amazon.com/Ben-Nye-Theatrical-Personal-Kit/dp/B00CDUQJTG
How to Apply Stage Makeup
Female

Male