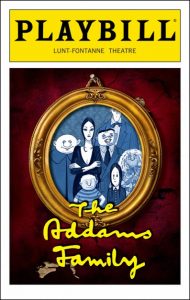 Cast members will all be spotlighted in the production's playbill!  Please follow these instructions very carefully and completely!  It saves a lot of editing time!
Create a Bio of 150 words or less featuring the following information. Write all information paragraph/prose style (not bullet points), in 1st or 3rd person, and italicize all show titles.  Want more examples?  Pick up a playbill from a past YPT show in the lobby at YPT.
How to Submit: Please type or copy your Bio into the body of your email. Do not attach it as a separate document. Send to ypt@youngpeoplestheater.com. Include the subject line: Playbill bio for (name)
Bios Due:  Thursday, September 27, 2018
Format:  150 word or less; Paragraph/prose Style; 3rd person or 1st person
Shows:  Italicize all show names (NO quotation marks or bold)
Punctuation:  1 space after each period/Consult Rules of Punctuation for additional guidelines
Content:
Name: First Name Last Name in bold followed by character/role in parentheses; Example: Joe Schmoe (Ensemble)
School
Grade
Optional additions:
Previous and/or Most Memorable Theater Experience(s)
Your Favorite "Thing" About Musical Theater
Hobbies/Special Interest
Thank You's/Personal Information
Sample Playbill Bios
Elle Fanning (Little Darling) Elle is a first grader at Harvest Elementary School. Elle loves singing and performing. She enjoyed playing the role of Mama Bear in her class production of Goldilocks. Elle looks forward to her first YPT production and can't wait to be a Little Darling with her twin sister, Belle and cousin, Sally. She would like to thank her Mom and Dad for all their love and her Aunt Em and Uncle Henry for helping to get her involved in YPT.
Mara Wilson (Mrs. Darling) Mara is a tenth grader at Plymouth High School. This is her first show with YPT and she is thrilled to work with this wonderful cast and crew. Mara has been in eight shows in the Plymouth-Canton area including Singing in the Rain (Dora Bailey/Greenwald!), Willy Wonka (Mrs. Bucket), Beauty and the Beast (Silly Girl), Les Miserables (Chorus), and West Side Story (Shark Girl) to name a few. She would like to give a special thanks to her family, friends, and most of all God. Mara would like to really thank her Mom, Dad, Jacob and Matt for driving her to and from rehearsals and still loving her when she runs around the house singing and dancing. Mara would also like to thank the cast and crew for making this a wonderful show! Break a leg!!!!!!!
Rico Rodriguez (John) Rico is a freshman at Skyline High School. He has been in a grand total of nine shows if you count this one. Rico's past shows include Seussical (Who Child and Elephant Bird) with Silver Dawn Theater Company, and seven YPT shows:  Fame (Ensemble), Beauty and the Beast (Crony, Bookseller and Plate), The Lion, the Witch and the Wardrobe (Centaur), Grease (Pre-Teen Angel), Annie (Wacky/Ensemble), Jekyll and Hyde (Ensemble) and Aida (Ensemble). Rico enjoys singing, playing his guitar, being a part of the Skyline Band, and hanging out with friends. He would like to thank his family and the YPT staff, crew, and cast for being particularly spectacular.