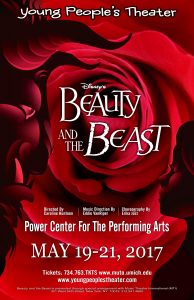 YPT believes that every young person is a star! Join the multitudes of "Star Makers"
Let our YPT stars put you in the spotlight with over 5,000 people locally…
YPT Shows are selling out and you can reach a local family audience!
Feature your business or organization in the YPT Beauty and the Beast Playbill!
Playbill advertising makes it possible for YPT to continue
to offer opportunities for our local young people.
Advertising in our playbill is simple:
Provide a camera ready copy of your ad or business card.
YPT Beauty and the Beast Playbill Ad Deadline: March 30, 2017