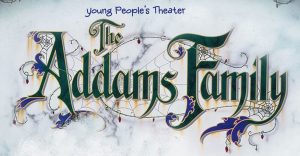 Addams Family 
Playbill
Ads
Your chance to be creative!!!
Place a Personal Ad for:
Your Cast Member
Your Business
-or-
Donate Your Ad Space/Solicit an Ad:
A School
A Business
A Local Organization
Each cast member's registration costs included $60 in 
ad
 fees. That entitles each cast member to a half-page 
ad
 or two quarter-page 
ads
.
Placing a Personal 

Ad

 for Your Cast Member(s):
You may choose to place a personal 

ad

 or 

ads

 for your cast member(s).
Or place an 

ad

 for your business or a friend's business…
There are 

playbills

 from past productions in a basket in the lobby if you wish to see more examples.
Doing an ad can be as simple as giving us the text for your message and choosing which template you want to use. You can send a designed ad if you wish… or a business card or two…
You may design your own 

ad

 and submit your camera-ready artwork.
Format: A .jpg is the preferred format for a designed 

ad

.
Sizing: Remember that your artwork will need to fit the sizes defined in the

Playbill

 

Ad 

Contract. Anything coming in which does not fit the contract dimensions will not be able to be run as a

ll

 sizing happens at the creation of an 

ad

.

All

 

ads

 run in black and white.
Using YPT's 

Ad

 Templates:
Or you may decide that you want to let us put an 

ad

 together for you.
Dana Beasley, our Graphics Artist, has created 

ad

 templates.
Our 

Ad

 Templates are pre-designed to make this service possible!
The 

Ad

 Template choices are both attached and shown here
Simply pick one and email us (ypt@youngpeoplestheater.com) your choice of template, size of 

ad and 

the message your would like in the 

ad

.

Photo of Cast Member:  Send one if you want to feature them with a photo. Headshot photos not available to be used in ads.  

Remember to include your cast member's name in your message/ad!

Subject Line in your email:  Size of 

Ad

 for Cast Member's Name or Business' Name

Simple as pie!
YPT 

Playbill

 

Ad

 Templates (below).  Pick your 

ad

 template, write your message, send us a photo and you are 

all

 set!!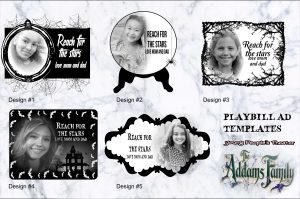 Deadline:
Thursday, October 11
Please advise everyone that this is a strict deadline. Ads received after this date will not make it into the playbill. Get yours in!