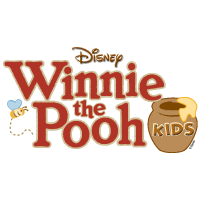 Winnie the Pooh
Two-Week Musical Production Camp
Directed by Paige Conway
Music Directed by John Bogdan
 Pooh Bear and all of his friends from the classic children's books and animated film band together to rescue their friend, Christopher Robin.
Disney's Winnie the Pooh KIDS is a delightful show based on the beloved characters of A.A. Milne and the 2011 Disney animated feature film. Featuring favorite songs from the film, as well as new hits by the Academy Award-winning Robert and Kristen Lopez (Frozen), this honey-filled delight is as sweet as it is fun.
Welcome to the Hundred Acre Wood, where Winnie the Pooh is once again in search of honey. Along the way, he meets his pals, Tigger, Piglet, Rabbit and Owl, but soon discovers that Christopher Robin has been captured by the mysterious Backson! As they prepare for a rescue operation, the animals learn about teamwork, friendship and, of course… sharing snacks.
Filled with all of their favorite characters, Disney's Winnie the Pooh is a favorite for campers to rehearse and perform! They will learn the basics of theater, voice and movement through daily sessions and rehearsals.  Enjoy a fabulous performance when the entire camp takes the stage the last day of camp.
Camp Dates:  June 17 – 28, 2019
Camp Time:  9:00am to 3:00pm
Performances:  June 28 at 11:00am and 2:00pm
Ages:  Entering 2nd-5th Grades
Tuition:  $600 per camper