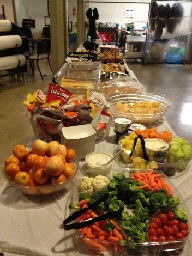 At YPT, the Tech Table = FOOD!  The Tech Table is a fabulous spread of entrees, fruits, vegetables and snacks to keep your cast member going during those long hours at the Mendelssohn Theatre.  Food is available every day during tech week ("move-in Sunday" through the last performance day) from cast call until rehearsal or the show is over.  You'll find answers to frequently asked questions at the foot of this page.  If you need more information, please send an e-mail to yptcrazyforyou@gmail.com and one of the Tech Table coordinators (Tammy Ellies or Sue Nishi) will get back to you.
Every family is asked to contribute to the Tech Table in one of two ways:
Option #1.  Donate food!  Soon you will receive an invitation to a Sign Up Genius form for food contributions.  If you choose this option, you will sign up for 3 items per cast member.  You will need to bring your items to the Mendelssohn Theatre or YPT Studio on a particular date during Tech Week, whichever date and location are designated on the Sign Up Genius.
Option #2.  Contribute cash and let the Tech Table coordinators do the grocery shopping for you.  If you choose this option, please bring cash or check ($45 per cast member) to the YPT studio by November 1.  This amount covers meals and unlimited snacks for your cast member for 8 days during Tech Week.
Please make your selection below by October 23, 2016!
FAQs
I chose to buy out of production teams and production jobs when I registered my child.  Do I still have to contribute to tech table?
Yes!  We ask every cast member to contribute to tech table even if you "bought out" of production jobs.
What kind of food is available on the Tech Table?
During the week, we offer one hot entree each night. In the past, our hot items have included hot dogs, macaroni and cheese, pizza, rice with chicken, and meatballs.  In addition to the hot food, we always provide fresh deli meat and cheese for sandwiches, a selection of green and pasta salads, fresh fruit and veggies, bagels and cream cheese, cheese and crackers, yogurt, applesauce, granola bars, and a variety of snacks such as popcorn, pretzels, granola bars, chips, and animal crackers.  Although we try to keep it healthy, we offer one dessert item each night.
What about beverages?
We encourage all of our cast members to drink lots and lots of water!!  Please have your cast member bring a water bottle every day.  We have water donated from Arbor Springs as well as drinking fountains equipped with special spigots to fill bottles.  We will NOT have juice, soda or any other beverages for the cast members, so please remember to send those water bottles!
What about allergies?
All of the food at the tech table is nut free.  In addition, we review the list of food allergies from the cast member's health forms.  If you have indicated that your young person has an allergy, we will contact you to get a full understanding of the foods to avoid and potential allergic reactions.  One of the Tech Table coordinators will be at the tech table every day, so we can help your child make safe choices from the buffet or, if necessary,  keep a separate supply of "safe" foods just for your young person.  We have successfully navigated many different food allergies and will work with you to accommodate your young person's needs!
Where does YPT get the food?
Some of the food is donated by local businesses, but the vast majority comes from contributions from every YPT family.
Are cast members allowed to eat in costume?
Yes, but we ask each cast member to bring a large shirt to put over his or her costume when eating.  A button-up shirt is best so it doesn't smudge makeup or ruin  hair styles.
Should I feed my child dinner before coming to the theater?
While you certainly can feed your child a snack or dinner before they arrive, we know it is hard to do that between school ending and a 4:45 call time.  Please be assured there is enough food at the Tech Table for your child to have dinner and snacks throughout the evening.  We will post a specific menu soon so that you will know which hot item is being served each night.