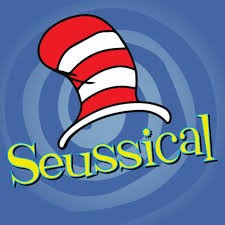 Seussical

Two-Week Musical Production Camp
Directed by Paige Conway
Music Directed by John Bogdan
 "Oh, the thinks you can think" when Dr. Seuss' best-loved characters collide and cavort in an unforgettable musical caper!
Horton the Elephant, the Cat in the Hat and all of your favorite Dr. Seuss characters spring to life onstage in this fantastical musical extravaganza from Tony-winners, Lynn Ahrens and Stephen Flaherty.
Transporting everyone from the Jungle of Nool to the Circus McGurkus, the Cat in the Hat, the narrator, tells the story of Horton, an elephant who discovers a speck of dust containing tiny people called the Whos, including Jojo, a Who child, who gets in trouble for thinking too many "thinks." Horton's challenge is twofold – not only must he protect the Whos from a world of naysayers and dangers, but he must also guard an abandoned egg that's been left in his care by the irresponsible Mayzie La Bird. Although Horton faces ridicule, danger, kidnapping and a trial, the intrepid Gertrude McFuzz never loses faith in him.
Ultimately, the powers of friendship, loyalty, family and community are challenged and emerge triumphant!  Seussical is great fun for the everyone. Campers will be excited to portray the characters from the popular Dr. Seuss books. They will learn the basics of theater, voice and movement through daily sessions and rehearsals.  Enjoy a fabulous performance when the entire camp takes the stage on the last day of camp.
Camp Dates:  July 8 – 19, 2019
Camp Times:  9:00am to 3:00pm
Performances:  July 19 at 11:00am and 2:00pm
Ages:  Entering 3rd – 6th Grades
Tuition:  $600 per camper