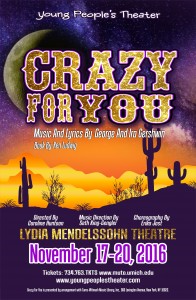 November 17, 2016  7:00pm
November 18, 2016  7:00pm
November 19, 2016  1:00pm
November 19, 2016  7:00pm
November 20, 2016  2:00pm
Lydia Mendelssohn Theatre, UM, Ann Arbor
Caroline Huntoon, Director
Seth King-Gengler, Music Director
Erika Jost, Choreographer
Tickets On Sale
Tickets Still Available
Appropriate for All Ages!
Join YPT's Email Blast List to receive announcements about future shows, ticket sales, etc!
Crazy For You, The Story:
Bobby Child, the son of a prominent East Coast banker longs to be a song-and-dance man! He is forced to enter the family business and his first assignment is to foreclose on the Gaiety Theatre in Deadrock, AZ. But when he falls in love with Polly Baker, daughter of the Gaiety's owner, Bobby dedicates himself to saving the theatre. And how does any self-respecting musical comedy hero accomplish this task? By staging a fabulous show, naturally, with Bobby himself in the lead. Of course, the plot is a mere peg upon which to hang some of the Gershwins' best-loved songs, including "Embraceable You," "Someone To Watch Over Me", "Bidin' My Time," and the show-stopping "I Got Rhythm".
"Crazy for You" radiates with playful humor, Broadway glamour, a wild west setting and a "ruby in the dust" plotline!  It is Ken Ludwig's 1992 adaptation of George and Ira Gershwin's 1930 musical comedy Girl Crazy.
No other show better conjures up the timeless glamour and romance of Broadway in its heyday than this outrageously entertaining musical.   YPT's very own local, young people take center stage with Ken Ludwig's hilarious dialogue (liberally splashed with slapstick and farce) along with high-energy, colorful song and dance numbers to provide a truly uplifting night out for audiences of all ages.
Congratulations to the U-M Marching Band and the School of Music, Theatre and Dance
for presenting "Blue On Broadway," a Halftime Spectacular that included "We've Got Rhythm"
from Gershwin's Crazy For You!